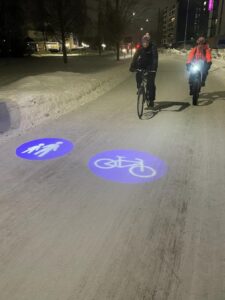 Summer Class
Oulu
August 30 – 31
Optional days mountain biking in Syöte
VeloFinland
Joensuu
September 22 – 23
Winter Class
February 2024
Welcome to Oulu, the winter cycling capital of the world. Oulu is a mid-sized city of about 200,000 inhabitants with a climate similar to that of Minneapolis in the USA. Winter temperatures can easily drop to -25 Celsius. (Bring warm clothes). During our two days here, you will learn how from the sixties, Oulu has embarked on a mission to teach people from around the world how it's done. From bicycle facilities design, maintenance, safe winter routes to school, participants will learn what has worked and what has not.
Oulu enjoys a 22-28% mode share for cycling during the summer and a winter share of 12%. Are you a northern tier city? You can get there too.
Day one (Oulu)
Explore the beginnings of modern cycling in Oulu and the history behind the success even in our Arctic conditions

Innovative design and implementation of cycling strategies. You will hear for the current drivers of innovation and how they have chosen to invest in cycling innovation.
The design and history of the central network of baanas (bicycle super highways) as well as other minor routes that comprise the system.

A comprehensive bike and tech tour with Pekka Tahkola
Day two (Oulu)
Innovative maintenance contracts.
Super Class maintenance.
From operational excellence to customer excellence

How to change the mindset of winter maintenance contractors, by requiring the tractor drivers winter cycle on the paths they are maintaining.
Harri Vaarala, Traffc Engineer – Smart Mobility, City of Oulu

Regular Maintenance.
Scoring method of success to reward or penalize contractors' performance.

How we measure customer satisfaction and how that affects the contractors' pay

Trained reviewers of maintenance quality.
Bike tour with Pekka Tahkola and late train to Helsinki
Day three (Helsinki)
The Most Functional City – a Place for Growth and the Integrated Approach

The City Master Plan calls for expanding the urban fabric of dense and mixed land use and serving its mobility needs with smart mobility solutions: walking, cycling and public transport
It's a holistic approach where it's about more than just cycling

carbon neutrality by 2030,
improved public health and
improved liveability.

Best practices in Helsinki's cycling urbanism

You will hear how the holistic approach serves all mobility needs and how best practice cycling facilities are an integral part of the mix
Winter Maintenance – what Helsinki can learn from Oulu and why we have to look elsewhere as well

Return on cycling investment

Integrating the bicycle into the urban fabric costs money, but we've made the case for it by proving the return on investment. It is indeed an investment!

Bike tour, Happy hour, and farewell
Oulu only registration fee 990€
Syöte add-on fee 875€
Helsinki add-on registration fee 300€
The price doesn't include any travel or accommodation costs. Lunch every day and bicycles for the tours will be provided.
For more information, please contact anthony.desnick@cyclingembassy.fi