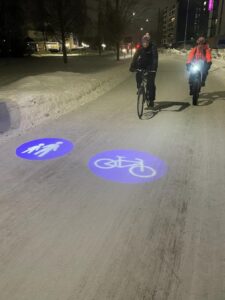 Winter Edition
Feb 27-28, 2023 (Oulu)
Mar 1, 2023 (Helsinki)
Welcome to Oulu, the winter cycling capital of the world. Oulu is a mid-sized city of about 200,000 inhabitants with a climate similar to that of Minneapolis in the USA. Winter temperatures can easily drop to -25 Celsius. (Bring warm clothes). During our two days here, you will learn how from the sixties, Oulu has embarked on a mission to teach people from around the world how it's done. From bicycle facilities design, maintenance, safe winter routes to school, participants will learn what has worked and what has not.
Oulu enjoys a 28% mode share for cycling during the summer and a winter share of 12%. Are you a northern tier city? You can get there too.
Day one (Oulu)
Explore the beginnings of modern cycling in Oulu.

Innovative design and implementation of cycling strategies. You will hear for the current drivers of innovation and how they have chosen to invest in cycling innovation.

The design and history of the central network of baanas (bicycle super highways) as well as other minor routes that comprise the system.

Bike tour with Pekka Tahkola
Day two (Oulu)
Innovative maintenance contracts.
Super Class maintenance.
Regular Maintenance.
Scoring method of success to reward or penalize contractors' performance.
Trained reviewers of maintenance quality.
Bike tour and late train to Helsinki
Day three (Helsinki)
The most functional city.
Best practices in Helsinki cycling urbanism.
Return on cycling investment.
Bike tour, Happy hour, and farewell
Oulu only registration fee €600
Helsinki add-on registration fee €300
For more registration information, please contact anthony.desnick@cyclingembassy.fi